Insured Surveys
When repairs are completed to vehicles that participate in the VIP Repair Program, the vehicle owner is asked to complete a short survey.
Listed below are some quotes from our happy customers.
Safety Agent Andrew P. Guarino from the Daniel J. Guarino Insurance Agency, Inc. visited the North Shore VIP Center in Danvers and said:
"My car was fixed flawlessly, washed & waxed, and returned to me in a timely manner. I will be recommending this service to all of my clients who use Safety Insurance. This is not only the best experience I have had with an insurance claim but quite possible the best customer experience I have had personally so far in my life."
Lucia L. visited the Braintree VIP Center and she said:
"I was extremely pleased with the service I received. I honestly cannot complain about anything. The staff was very pleasant and helpful… I didn't know that I would get my car back so clean and shiny. I felt like I was picking up a new car. Thank you!!!"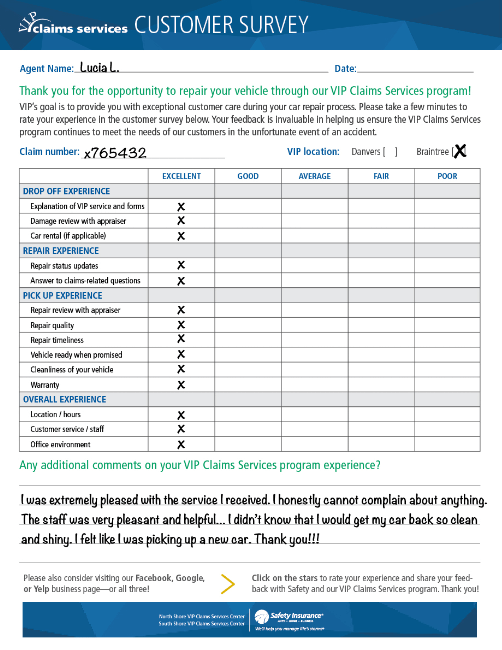 The quotes listed below are from people who visited the Newton VIP Center:
"This is a terrific service for Safety Insurance customers, completely eliminating the hassles associated with car damage due to a collision. I had a completely positive experience. I appreciated everyone's help and service, including the car rental representatives. Thank you!" Joanne D.
"Everything about the repair was wonderful- the people, service, quality of the work. What had been a very unpleasant situation became very stress-free. Thank you." Ellen F.
Here are some quotes from people who visited the North Shore VIP Center:
"This was the very best experience I have ever had with an insurance claim. Please keep it up!!! People were great, timely repair, overall great experience. Thank you!" Howard B.
"Working with the VIP Center was the finest customer service experience I have ever encountered. I was able to drop off my car and have a rental within 45 minutes of my initial call. Everyone was extremely helpful and courteous. You have a top notch operation. I wouldn't consider ever going to another company. Keep up the great work! Thank you again." Julie K.
"Thank you for making a typically painful and dreaded experience a much more relaxed and comfortable one! I kept asking what's the catch? Your VIP Program seemed too good to be true!" Tiffany D.